I have been experimenting with the new Sonax Wheel Cleaner Plus over the past couple of months and I have to say I'm very impressed.
The Sonax Wheel Cleaner Plus will help you rapidly break up just about any contamination that your wheels can come in contact with! It is non corrosive and pH neutral so you can use it on any wheel surface such as chrome, alloy, clear coated, polished, anodized, stainless steel, etc. Spray the clear formula on your wheels and watch it quickly break down contaminants, while changing to a deep red color. This color change lets you know the formula has broken down, softened and loosened the contamination, allowing you to easily rinse your wheels clean. It's especially good at removing iron deposits often left on the wheel finish that is often challenging for other wheel cleaners to remove. Wheel Cleaner Plus is formulated 30% stronger than the popular Sonax Wheel Cleaner Full Effect, which allows you to clean your dirty wheels from brake dust and contamination at a much faster rate. If you are looking for a high quality, safe and easy to use wheel cleaner, pick up the Sonax Wheel Cleaner Plus!
I have been using the Sonax Full Effect wheel cleaner for quite some time now and simply had to try the new stuff.  While we tried it on many vehicles, this one in particular had a light layer of brake dust on the wheels and provided some good test photos.  While we normally use a combination of EZ Detail Brushes and the Boar's Hair Brushes to agitate wheels, in this case I simply sprayed the cleaner on the wheels and rinsed off after about 1 minute.  The results were as follows:
Immediately after spraying the wheel completely, I noticed the red and saw that the cleaner was already working…
After about a minute had passed, there was noticeably more indication that the cleaner was breaking down the buildup so I decided to rinse it at this point…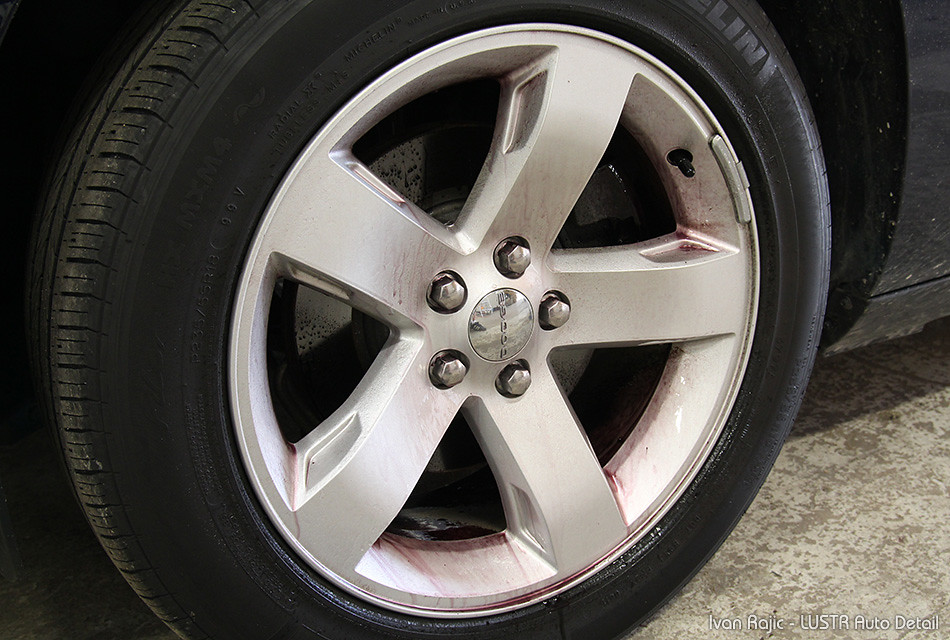 After rinsing, I was extremely impressed by the amount of cleaning accomplished without any agitation and in such a short time…
One thing that's most noticeable for me was how much stronger it was than Full Effect because it seemed to work faster and removed a lot more buildup.  So, I decided to compare the two on one of the wheels, trying to get a fair comparison…
Keeping in mind these wheels were fairly clean, neither cleaner did much immediately after spraying…
But then I was pleasantly surprised as to how much buildup started to show up with the new cleaner…
After leaving it on for a bit over a minute, it was even more apparent that the new wheel cleaner was stronger, thus I would say better, than the old.  As you can see below, Full Effect only seemed to change color on a few minor areas, whereas Plus was consistent throughout the wheel in removing the buildup.
So what does this tell me?  Is the Full Effect a bad wheel cleaner?  No way.  I will continue to use it and with the price difference it will be a great product for any enthusiast out there.  However, Sonax Wheel Cleaner Plus is simply a newer and better product that will be of great use to both enthusiasts and professionals alike.  I am mainly happy with the fact that it can remove a lot of buildup on wheels without any agitation, meaning one can simply spray it on all the wheels, leave it for a few minutes and rinse it while rinsing parts of the car during a wash, while still getting great results.  A quick wipedown with a microfiber towel after will ensure a completely clean wheel.  I don't recommend this being done every wash as some of the contamination on the wheels needs to be brushed off and removed, but it's definitely a convenience to know it's powerful enough to work without agitating anything.
I hope to do some follow up photos on wheels that are dirtier than these and not only show how the Plus works, but again compare the two and see the results.