The 303 Aerospace Protectant (303 AP) is a major tool in any detailer's arsenal.  It is not only very good at what it does, but it is so easy to apply and serves so many various functions that it's a no brainer to have and keep for good.
"Simply spray or wipe the 303 Aerospace Protectant on any vinyl, rubber, plastic and leather surface and you'll instantly have a richer looking finish with valuable UV protection. The superior protection this product provides is critical to the long term care of your vehicle. The 303 Protectant is great to use on your vehicle's rubber (tires, seals, hoses), vinyl (dashboard, doors, armrests, interior and exterior trim, engine casings, convertible tops), plastic (car bras, gauges, grills, trim, convertible's soft windows), leather (seats, trim) and so much more. This versatile product gives all of these surfaces valuable conditioners and protection that will keep each surface looking new and fresh for years to come with regular treatments. The tires, leather seats, exterior trim and dashboard often get prolonged exposure to harmful UV rays so it's important to thoroughly protect those surfaces. Keeping your interior looking clean and dust free can be challenging, but the 303 Protectant is up to the challenge. Applying the 303 Protectant to your dashboard, arm rests, seats and doors will help repel dust, dirt and human oils from collecting. Many other dressings are oily and greasy which can actually attract dust and dry out the surface. Any surface you apply Aerospace Protectant to will leave behind a beautiful matte finish. For best results just apply one nice thin coating and you'll instantly notice the beautiful finish it leaves behind!"
The description alone makes my review useless to a degree :), but I'll try anyway to further explain the product's advantages.
303 AP Advantages
First off, 303 AP is extremely easy to use, as you'll see in my quick guide below.  You simply need to wipe on, wipe off and you're done.  All that's necessary for this application is some 303 AP and a microfiber towel, that's it!  If you care to see a bit more gloss you can go with 2-3 coats and notice quite a difference.
Second, 303 AP has various uses around the vehicle.  As noted in the description above, it can protect anything from tires, to exterior trim, to interior leather, and so on.  It's just as easy to use on one as it is on another part of the vehicle and does a great job no matter what it protects.  Also, it never leaves a glossy/oily surface that detracts from the cleanliness of the car or car part.  The finish is matte and clean looking.
Lastly, durability of it is comparable to or better than most dedicated dressings out there, such as vinyl dressings, tire dressings, etc.  On tires, I find it to last for a week or two easily and keep a nice dark look, especially if a couple coats are applied.  On the interior, you can usually check durability of it on the dashboard by noting how easy it is to wipe off any dust that has settled.  With 303 AP applied, I notice my dashboard to be much cleaner as well as easier to clean.  A microfiber towel with some Optimum No-Rinse (ONR) will glide across the dash and pick up dust much easier when there's some 303 AP applied to the dash.  Also for the interior, the durability is much better and, other than the dash which gets most damage from the sun, you can easily see 303 AP protecting for a good 6-8 weeks.
How to use 303 AP
Below is a very short guide on how I like to use the 303 AP and a few photos to show the results. I prefer a dark matte surface on pretty much anything I condition and protect, which is why I use 303 AP for almost any sort of dressing or conditioning that I'll be doing on a vehicle.  For this guide, I used a small trim piece from my 93 BMW 325i to show what 303 AP can achieve in a very short period of time.  The trim piece is roughly 6" x 2" in size for reference.
As you can see in the photo below, the trim piece is showing its 18 years and 237,000 miles by sporting a beat up, gray and defeated look…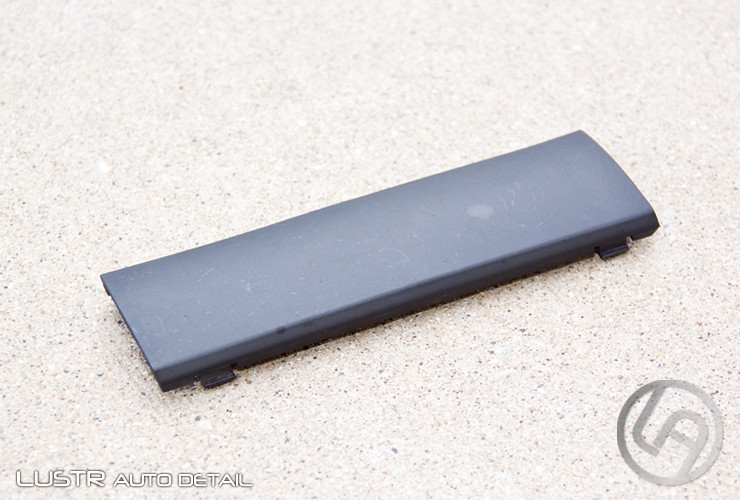 As mentioned toward the beginning of this article, all you need is a microfiber towel to apply and remove 303 AP.  I like to use a 16" x 16" (or similar size) towel, fold it in half 3 times to end up with roughly a 4" x 8" surface area exposed.  I then spray this area 2-3 times using the 16oz. spray bottle and apply the product to trim/etc. using back and forth then up and down motions to ensure it really gets into every pore.  For such a small trim piece, I would only spray the towel 1-2 times before applying 303 AP to it so as to not apply too much.  One thing worthy mentioning… when applying, I find it best to basically keep wiping a few times with the damp part of the towel, then turn the towel over and keep lightly wiping to a nice matte finish.  Some people prefer to wipe on, leave alone for a few minutes, then wipe off residue later on.  I obviously prefer the "WOWO" (wipe-on-wipe-off) method, but to each their own.
Here you can see 303 AP applied to only half of the trim piece…
You can see here that 303 AP not only makes the trim much darker, but also fills in some of the deeper scuff marks for a cleaner look.  All this while remaining perfectly matte with no sign of oily or dirty residue.  Keep in mind this is done with a trim piece that was only wiped down with some ONR prior to the 303 AP application, so it didn't receive a thorough wash or cleaning.
Finally, the after photo:
If you simply look at the before and after photo, due to the lighting conditions you can't tell much of a difference in how much darker the piece is, but don't let the photos fool you.  The difference in the before vs after photo is in the details.  One can easily see how just one application of 303 AP filled in all the scuff marks and stains, leaving a cleaner looking trim piece that when put back on the vehicle doesn't belong at all with the other pieces.  The half/half photo is a clear indicator in how 303 AP improved the black look of the trim.
Final thoughts
Honestly there's not much more than can be said about this great product.  It passes with flying colors all the tests detailers like myself look for in such products… ease of use, quality/performance and durability.   It also comes in multiple sizes so you can purchase however much you need, although I highly recommend purchasing a gallon because you'll find yourself using it on every car and even around the house.  As you can see in the first photo, I like to put a custom sprayer on the 16oz. bottle and work with that.  303 Aerospace Protectant is a great product in every sense of the word and one that I don't see myself replacing with anything for many years to come.
I'll end this article with a photo of my helper for the day looking on wondering "are we done yet?!".  I took the photos in my parents' back yard and their little Pomeranian wouldn't leave me alone.
As always, hope you enjoyed it and please leave any comments below.
Thanks,
Ivan